Merry Christmas!
Merry Christmas!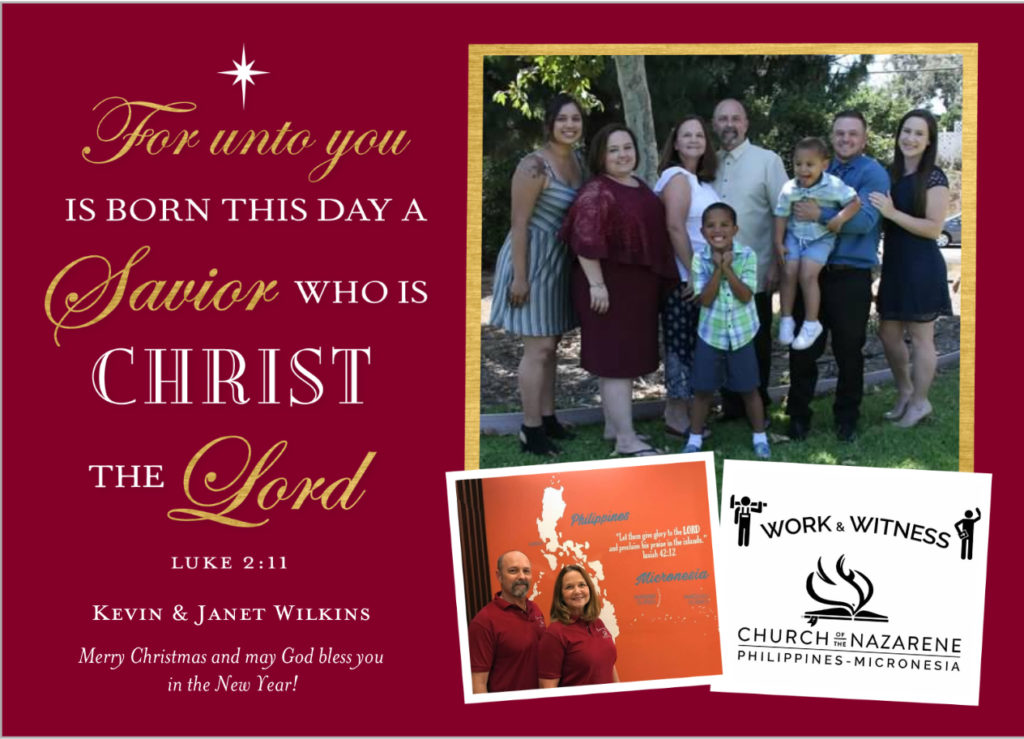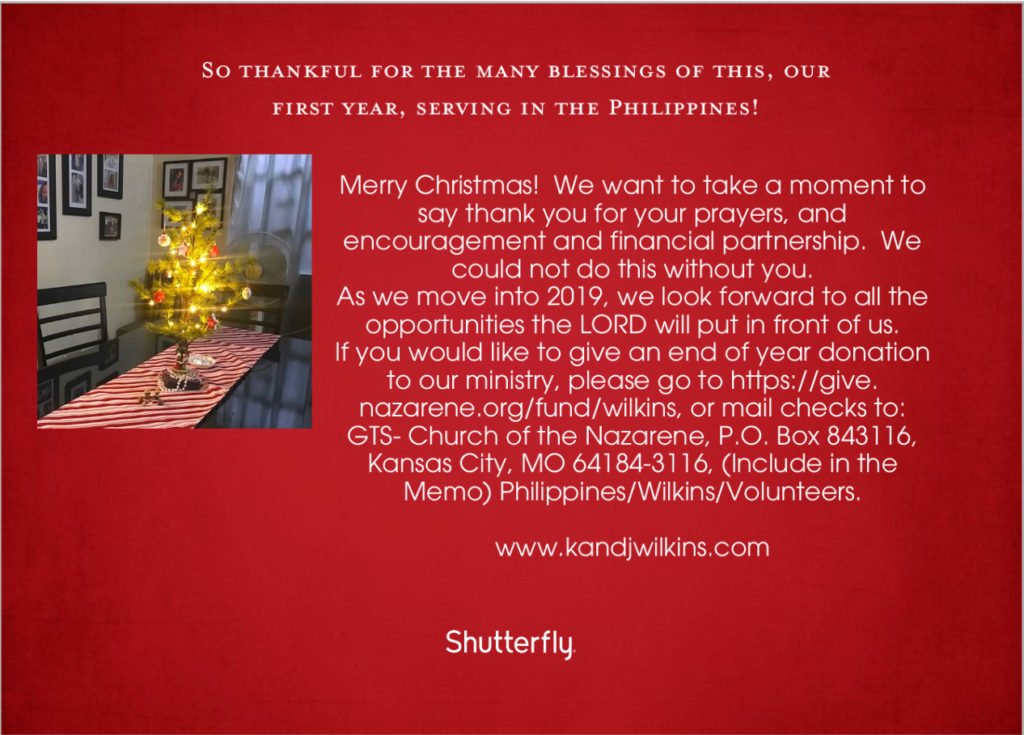 As we prepare for Christmas day we are thankful that God has us where he wants us. Being away from family at this time of year is challenging. We miss being at Glendora Community Church, and celebrating together with family and friends. With that being said, we are confident of our calling here in the Philippines and that God as planned work for us to do here.
'For we are God's handiwork, created in Christ Jesus to do good works, which God prepared in advance for us to do. ' Ephesians 2:10
We have the opportunity to plan a Christmas day meal with the students and faculty that are still on campus at the seminary. There will be about 40 of us. I am doing cheesy potatoes and baked goodies. : ) We will also have the opportunity to go on a Missionary Retreat Wednesday to Friday this week! It should be restful and fun.
Saturday begins the first District Assembly for this season. We will fly down to the Bicol District on the south end of Luzon. Kevin and I will be attending all the District Assemblies that we have projects for. We will be traveling a lot in January. It will be fun to see the progress on work projects and connect with folks we have met.
Please pray for us as we travel. That we would be an encouragement to the districts and also safety and on-time flights. lol
December has been a month of year end meetings, Christmas parties, and plans for the future. We had a guest from New Zealand, who is an expert on leaking basements. Kevin and David worked for a week in our basement at APNTS. David is presently putting together the Job Scope to fix our leaking basement. It has been 4500 square feet of unusable space for many years. In addition to the lost space, we feel that it is degrading the building with moisture and mold. So we are excited to get the proposal and praying that we can present it to the Asia Pacific Region leadership for Alabaster funds.
Please pray with us that the proposal is a good one that will fix our problems and also that Regional leadership will approve it and provide the needed Alabaster funds.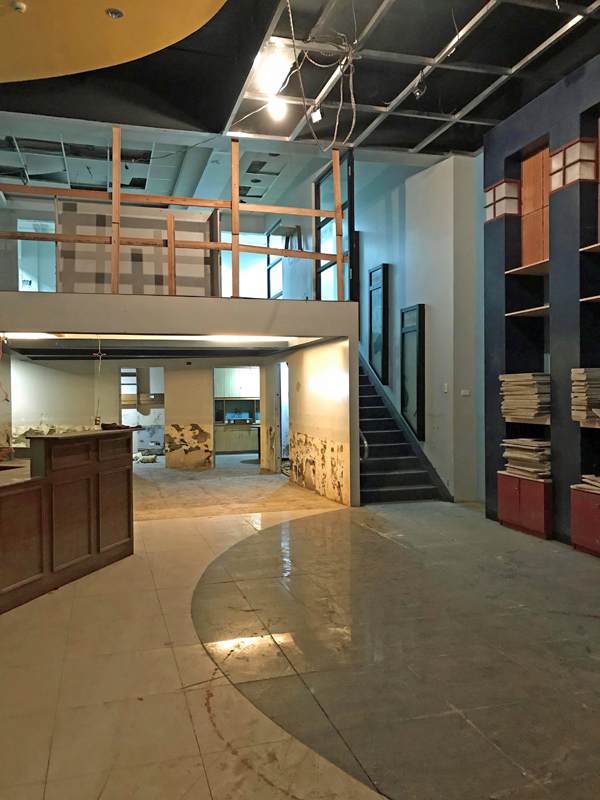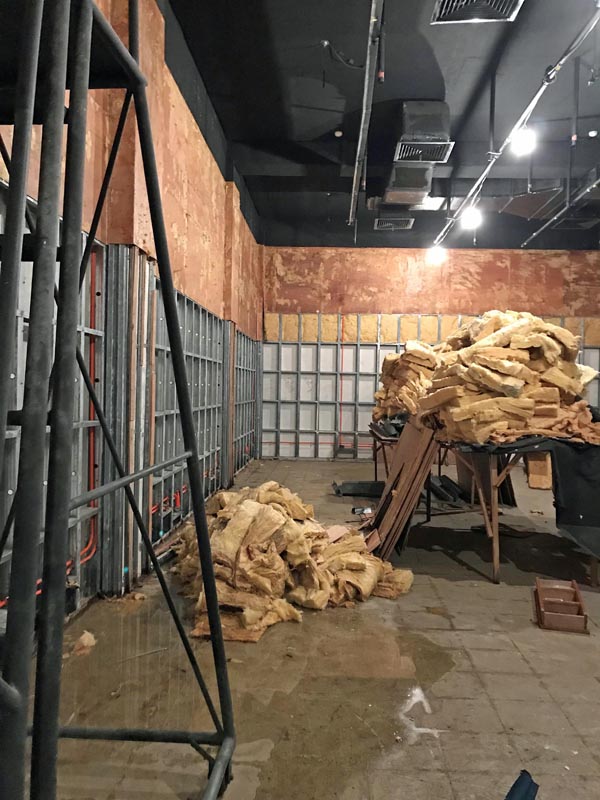 We are excited to enter our second year here, January 18, 2019. We are praying for God's blessing on our work and passion and fresh hope in all we do! Kevin is still looking for the right Tractor in our price range that will provide for our needs. We are excited to make the purchase and all the projects on campus that we will be able to do.
Please pray for us that the Lord would give us wisdom to lead, and fresh ideas to implement and continue to teach us how to relate in this new culture of ours.
We would be delighted to have visitors, if anyone is interested in coming! We have a spare bedroom!
If anyone is interested in year end giving, here is a link. https://give.nazarene.org/donate/f/131673
We are overwhelmed by your support, love and friendship! Merry Christmas and thank you for following our story!