Team Work at Visayan Nazarene Bible College
Team Work at Visayan Nazarene Bible College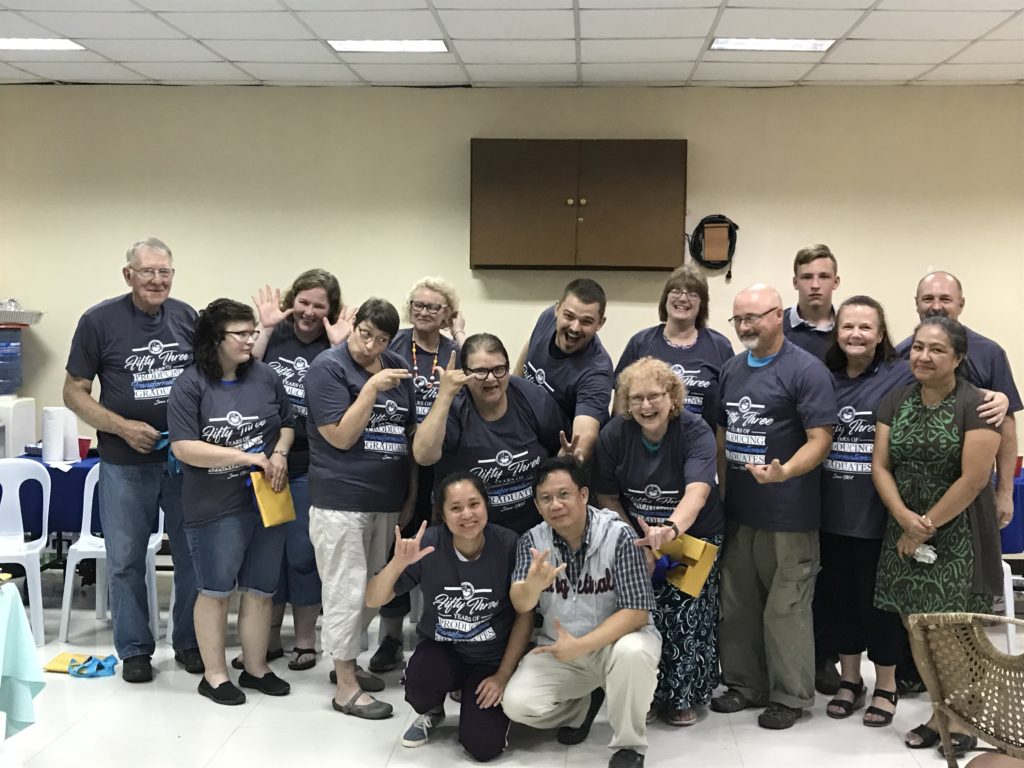 The Upstate New York District Work & Witness Team arrived to Cebu City in the wee hours of the morning on July 7, and were welcomed by President, Pastor Sam Tabuena and his wife Annabelle.  The team did not know all the blessings they would receive on this trip or the blessing they would give.  Visayan Nazarene Bible College was blessed by the hardworking members who were willing to lug buckets of concrete up to the 2nd floor, work in the mud back-filling in the foundation holes, shovel sand and rock into bags, cut wire and bend rebar, make beautiful shelves for the ladies' dorm and repair and paint shelving in the classrooms.  This team was joined by our friend from Glendora Community Church, Matt Bolt.
Matt's favorite moment was sitting on top of the roof of the cafeteria with a young VNBC student who was so excited to be working.  "Now I will know how to build the parsonage at my church someday."   What a fun time of bonding we had with these future pastors.
Judy, who came as a deaf interpreter, shared "My favorite part was working on the site.  Shoveling gravel and sand into the sacks and knowing my dripping sweat would be part of that building forever".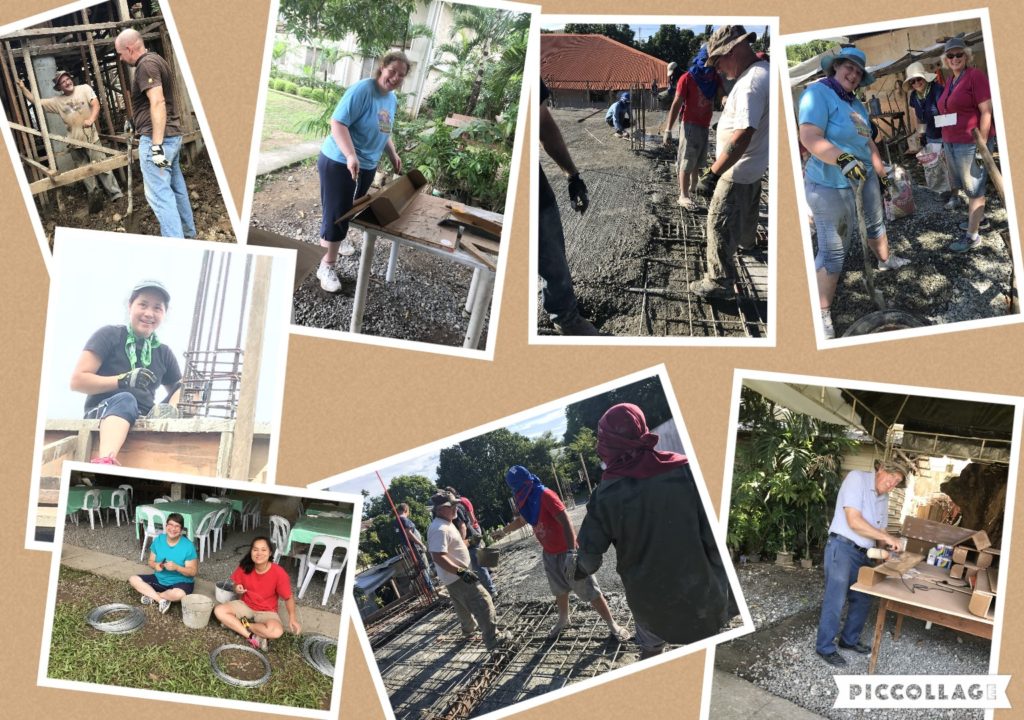 In addition to the construction work, this team did amazing ministry with children and youth, ministered at chapel, met with the International Justice Mission (IJM) as well as Pastor ER for a briefing on Human Trafficking in Cebu and the Nazarene Church's ministry there in prevention and training.  A few visited Gualandi Mission for the Deaf school.  There they learned about local deaf education and played with the kids.  This team was an encouragement to the youth deaf students as they watched Tamla (a deaf teammate) interact with and lead our team.  The students at this school were forbidden to use sign language.
Many of us came to understand the statistic that only 2% of deaf people ever come to know the Lord as the gospel is rarely presented so that they may understand.
Rev. Becca Dyke, pastor at Community North Church of the Nazarene NY, shared that evening, "It was a hard day.  IJM and the deaf school, I was really down.  But, I was reminded that even though I don't have control of many things, I am called to do my job each day and to Hope in God."  Although the team experienced sorrow at circumstances in the Philippines, they were excited for the work done by the Church.
The Upstate New York team did a fabulous job of teaching the elementary students using song, stories, games and even a life sized Goliath, complete with slings.
On Sunday we were divided up among 5 different local churches.  It was such an enjoyable time of fellowship and worship.  Pastor Becca preached and many offered a word of testimony or song.  It was super fun and with just 2 or 3 of us at each church we were treated like royalty.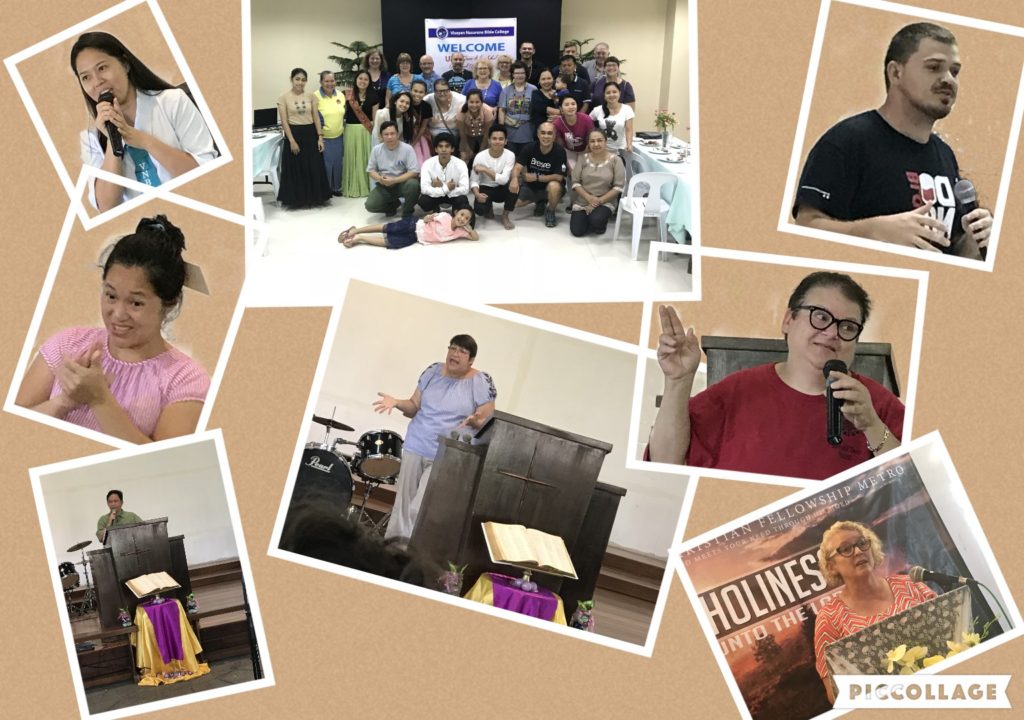 The week of work was crowned off with a dinner prepared by team mates Dave and Matt for the construction crew, college students, staff, and faculty.  We served over 100 people!  The program, prepared by VNBC, was appreciative and fun.  It was a delightful end to a wonderful week!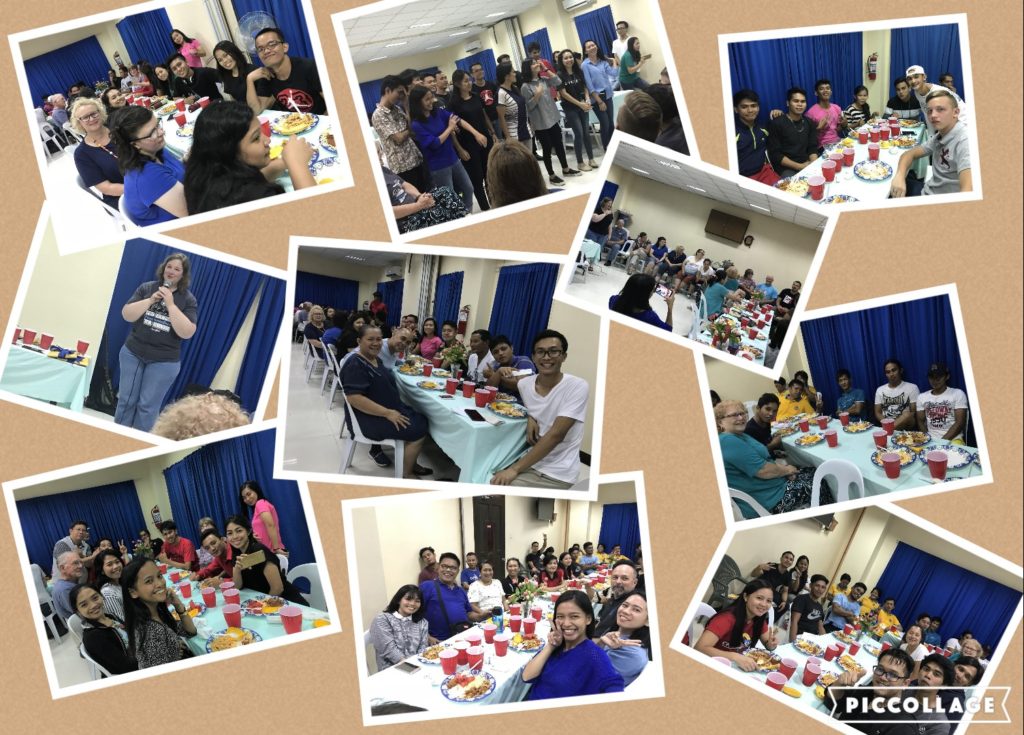 Team coordinator, Rachel , shared "Our family has grown since meeting, working with and worshiping with all the amazing people at VNBC.   We are all prayfully considering when we can come back.  If you decide to visit be sure to ask for some ice cream!"
To brighten your day, check out this Video!
Just a reminder, we will be traveling in the US from September 1 to October 15.  We will attend 3 Work & Witness Conferences, including Portland, Baltimore and Columbus, visit the kids and spend some time in the Los Angeles area.  We are excited to recruit teams for the Philippine – Micronesia Field and APNTS and share about the work we are doing here.  If you would like to get together shoot us an email at Wilkins.kandj@gmail.com.