Learning, Leading and Making New Friends
Learning, Leading and Making New Friends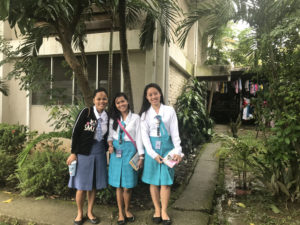 We are about 1 month on the job here in Manila, Philippines.  There is so much to learn.  We have had many good teachers.  They give us training on culture, customs, how to ride a jeepney and other forms of transportation, and even how to shop for things you need.  Simple things can be very exciting… like finding cake and brownie mixes at the store.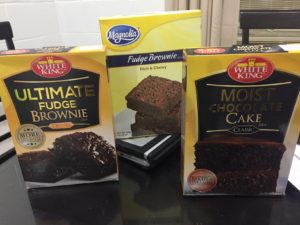 I am even learning how to use a new temperamental oven.  Some of this feels like when we were newlyweds.  When everything was new and different and we were just figuring out how to do life.   We are learning how to budget time. 
It can take hours to "run to the market".  We are having to learn not to be the "impatient Americans".
We have a 2 bedroom apartment on the campus at Asia Pacific Nazarene Theological Seminary (APNTS).  It has Air Conditioning and is quite comfortable for us.  We have received some of what we have shipped over and are waiting for the rest of it.  It is hard to remember exactly what was shipped.  We have 116 stairs up to our apartment.  The campus is built on a hill.  This is a good workout for us.  I also have my bike an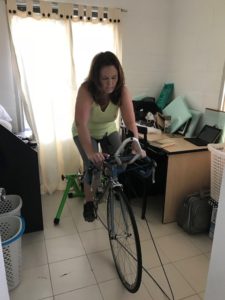 d trainer setup in the apartment.   This is a real blessing to me.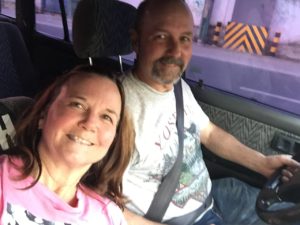 Kevin has ventured out driving  on the roads a couple of times.  It is very crowded and chaotic, but the speeds are much slower than we have experienced in the U.S. so that it seems manageable.  Things that would would seem abrupt or rude, now can be seen as just the normal flow of traffic.  When you do not have freeways, or signal lights, or designated lanes, cars must just move in and out of traffic  without hitting each other, but also without just waiting for each other to move.
We have experienced some sickness here since we arrived.  We are both thankful for good health right now.  Please pray for our health, that we would have good immune systems for all the "new bugs" that are here.
One of the extracurricular activities we have gotten to participate in here is Crisis Care Kits.  We spent an afternoon unloading them from storage on the second floor to a truck below.  We were working with young men so I felt like we should get extra credit.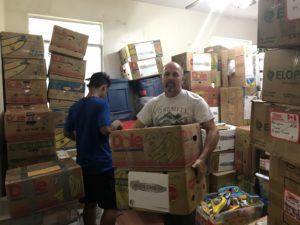 These kits were driven down to the Mayon Volcano area by our field personnel, Tata.  The local Nazarene churches there gave them to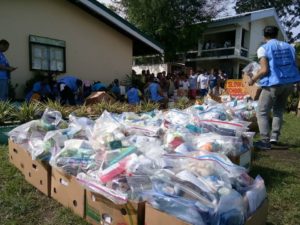 almost 2000 families in 5 different evacuation centers.  I love our church!  I saw labels from churches on the East Coast.  I got some of the information so that I could email them to let them know where their kits were used.  I will try to do this better in the future.  How fun!
We have been updating the lists of Work & Witness projects here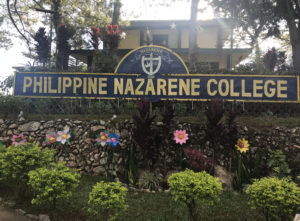 and have traveled to both of the Bible Schools.  Philippine Nazarene College (PNC), in La Trinidad, is about 6 hours drive north of here.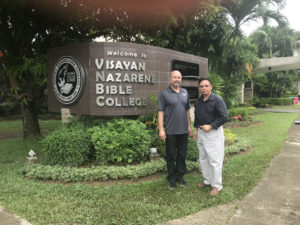 Visayan Nazarene Bible College (VNBC), in Cebu City, is about an hour flight south from here.  The Bible Colleges will be high priorities for our projects.  The schools are in a state of disrepair.  We have asked the leadership to determine their priorities so that we can work on that.  We are updating the projects with pictures as we visit the sites.  Everywhere we go we meet wonderful people who's passion is serving the Lord and developing transformational leaders to lead our churches forward.  Both of these schools are updating software, and have received help from the region for some urgent facility needs.  This has given us a good starting place.
Other projects are also scheduled on the district level.  We have child development centers, district centers, there is opportunity to come work with the local districts in ministry or medical missions.  Our first team will be coming on March 3, 2018.  Please pray for this team from Eastern Nazarene College.  They will be working in a Child Development Center and partnering with the district there.  We are excited to meet them and work with them as they serve the community.  Please pray for the team's safety, and that all involved would learn new things about serving God's children in poverty with hope.
Half of our job is with the APNTS campus.  Kevin has involved himself with the facility and the projects / plans that are moving forward here.  His gifts are a great fit, and he is a blessing to the administration here.  We are also working with the leadership to update the Work & Witness projects here but that is still in progress.   Today Kevin is leading a team of pastors/students to paint their
dorm building.  Learning to work with what we have and use resources to their best potential.  That is a new place of learning for us.  It is very exciting to be a part of this school and moving it forward in terms of the facility and it's usage.
Due to the wonderful blessings we have received in your giving, we are moving forward with looking for a vehicle for our use here in the Philippines.  We will be greatly helped by being able to get around to look at projects and make purchases for things needed.  We have some local friends looking for us.  Please pray that we would find a reliable vehicle that works in our budget.
We have submitted our Visa paperwork.  We are told it will take 2 months or so to get this approved.  Our wonderful Abby, Office Administrator for the Field Office, is doing our paperwork.  She is a blessing to us!
We are settled in to our office and have purchased a printer, bug spray, rodent pellets, and cleaning supplies.  We carry our computer via backpack to and from our home.
On the l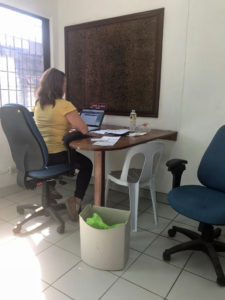 ighter side… we definitely need another computer.  We thought we could share one.  Humor…  for the good of our marriage we will purchase another one.  I guess I am a computer hog.
Thank you for praying for us.  We do not serve here alone.  We value our ministry team.  Thank you for praying for us, loving us and financially supporting our ministry.
On the home front.  We have been blessed by Mesa Properties in Upland who have painlessly walked us through the process of renting out our home in Glendora.  We are so thankful for their partnership.